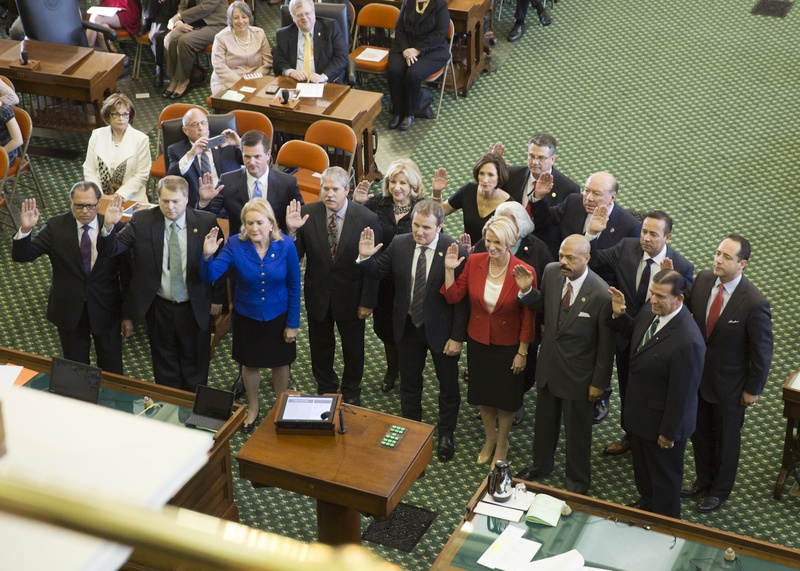 The Big Story
A tight budget and a political conversation already dominated by social issues like who can use which bathroom did nothing to dampen the spirits of state lawmakers on Tuesday, the first day of the 85th Legislative Session. Here's the story:
• The session's first day was marked by pomp and circumstance inside the Capitol, and protests and prayer rallies on the outside. While newly elected freshmen legislators and crusty veterans shook hands and chatted, about 100 protesters marched from the Huston-Tillotson University campus in East Austin to the Capitol.
• Rep. Joe Straus was unanimously voted to his fifth term as Speaker of the House. The San Antonio Republican faced no opposition in his record-tying re-election bid, and he made clear in a speech after the vote that he would focus on compromise during the session. And unlike his predecessors, Straus appears more secure politically now than when he first became speaker in 2009.
• Texans from across the state swarmed the Capitol to watch. Here's what some are hoping to see lawmakers accomplish this session. And The Texas Tribune's photographers were on hand at the Capitol to capture scenes from opening day — check out our slideshow here.
The Texas Tribune thanks its sponsors. Become one.
Tribune Today
State Rep. Dawnna Dukes' case headed to grand jury next week
Travis County prosecutors will ask a grand jury to indict Dukes next Tuesday, KXAN reported.
Jeb Bush expresses cautious hope for Trump presidency
The former Florida governor and Republican presidential hopeful wished the president-elect success during remarks at Texas A&M University on Tuesday evening.
First Texas execution of the year set in murders stemming from fake drug deal
Christopher Wilkins, now 48, shot and killed Willie Freeman and Mike Silva in Fort Worth in October 2005 because Freeman had sold him gravel, claiming it was cocaine. 
Texas electric generators bash EPA over proposed clean air rule
Environmental groups praised and power generators bashed a proposed federal environmental regulation on Tuesday aimed at improving visibility in national parks and wilderness areas in Texas and surrounding states.
News from Home
Are you a Texan going to Washington, D.C., for Donald Trump's inauguration? The Texas Tribune is working on a story about the inauguration and would like to hear from Texans traveling to Washington for the event. Tell us about your plans here, and a reporter may contact you.
What We're Reading
(Links below lead to outside websites; content might be behind paywall)
The Texas Tribune thanks its sponsors. Become one.
Rex Tillerson set for tough confirmation hearings for secretary of state, Washington Post
Supreme Court lets stand Texas veterans tuition aid program, Associated Press
Texas highways to get record funding, comptroller estimate shows, Fort Worth Star-Telegram
'Ignore these stupid letter grades': Texas teachers, parents and pundits sound off on A-F school ratings, Dallas Morning News
Texas $1 billion carbon project to curb emissions, up oil recovery, Reuters
Judge: More work needed on Texas foster care reform plan, Associated Press
Texas officials, wary of species designation, pay for mussel research, Austin American-Statesman
The Texas Tribune thanks its sponsors. Become one.
Trib Events for the Calendar
•   A Conversation with Lt. Gov. Dan Patrick on Jan. 11 at The Austin Club 
•   A Conversation with the University of Houston's Renu Khator on Jan. 12 at The Austin Club
•   A Symposium on Race and Public Policy on Jan. 13 at Huston-Tillotson University
•   A Conversation with Reps. Dustin Burrows & Drew Darby on Jan. 19 at Howard College – West Texas Training Center
•   A Conversation on Mental Health on Jan. 26 at The Austin Club
•   A Conversation on Ethics, Transparency & Open Government, Jan. 31 at The Austin Club
•   A Conversation with Bill Frist, former U.S. Senate Majority Leader, Feb. 1 at The Austin Club
•   A Conversation with Sen. Kel Seliger & Rep. Brooks Landgraf on Feb. 17 at Odessa College – Saulsbury Campus Center
•   A Conversation with Reps. Senfronia Thompson & James White on March 31 at Prairie View A&M University – W.A. Tempton Memorial Student Center